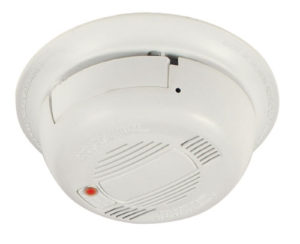 Smoke Detector safety
A Smoke detector can and will save lives, when installed and maintained correctly. The National Fire Protection Association recommends replacing your smoke detectors every 10 years. Although, electricians go into countless homes every day that have wires dangling where they once were. Usually, because the annoying detector started telling the homeowner that its battery was dying. Instead of listening and feeding the detector with a new 9 volt battery, the homeowner just cuts its head off, so they don't have to be bothered with the annoying chirp, chirp, chirp.
Statistics you should know:
3 of every 5 home fire deaths were homes with no working devices.
Dead batteries cause nearly 25% of smoke alarm failures.
38% of deaths are because there was no smoke alarm present.
21% had devices that did not operate.
Most fire related deaths happen at night while the occupants are asleep.
              Smoke Detector tips:
Install smoke detectors inside and outside each bedroom.
Its best to use interconnected smoke detectors with 110  volt and battery back-up.
A Smoke detector works best on or near the ceiling.
Special smoke alarms are made for the hearing impaired that have built in strobe lights.
Also,replace your batteries with a 10-year lithium Ion battery.
Athens Electric Company hopes you will go purchase some new batteries, and make sure your alarms are working. If you are renting and find yourself with out smoke detection, please call your property manager or landlord. These detectors and batteries are much cheaper than some ones life!!
Athens Electric Company not only performs all types of electrical repairs in Athens, we also install health and safety devices. These devices include Carbon Monoxide Alarms, Smoke Alarms, and combination detectors. Whether you own apartments or a single home, Athens Electric Company is here to help. Call us to repair, install, add, change out, or just replace batteries.
Ross Kesterson